Want to register an overnight guest or organise an event? Need to log a maintenance issue or just don't know how things work in your apartment? Find everything you need and more below.
Upcoming Corrib Village Events
Don't be the last to know! Keep up-to-date on all the events that are taking place this semester at Corrib Village by liking our Facebook page, following us on Twitter or downloading our Semester 2 Events Guide! For instant updates, check out our hashtag: #CorribEvents
Student Portal - Log Maintenance Issues Here and More!
To access your student portal, click here. Log in using the username and password which was emailed to you.
Overnight Stay Request
If you'd like to request an overnight stay for a guest, please fill out an Overnight Stay Request Form and drop it into reception.
Please note that there's a limit to the number of overnight guests staying in Corrib Village on any given night (first-come-first-served basis) so make sure to register your guest at least 24 hours in advance!
Guests can only stay for a maximum of two consecutive nights and any resident who has an unauthorised guest will be subject to disciplinary procedures.
And don't forget…you are responsible for the behaviour of your guest!
Event Request
Although anti-social behaviour is not tolerated at Corrib Village, we do recognise that student life is a time for having fun! Events can be organised by residents but must be approved beforehand.
If you'd like to organise an event, please download an Event Request Form and return to reception at least 48 hours before the event.
Please note that an event that does not finish on time or causes complaints/problems for residents or Corrib Village staff will be ended immediately and the organiser will be subject to disciplinary procedures.
Please also bear in mind that not all requests will be granted; they are dealt with on a first-come-first-served basis.
Day-Today Shop/Deli/Café
Day-Today is located opposite reception. Here you can stock up on frozen foods, dairy products, fresh fruit and vegetables, meat products, tea/coffee, toiletries and other essentials. Or, if you're looking for food on the go, enjoy a selection of salads, sandwiches, pizza and more which are also available.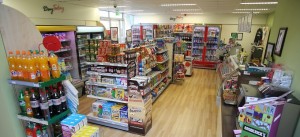 Opening Hours:
Monday – Thursday        8:30am – 10:00pm
Friday                              8:30am – 4:00pm
Saturday                          Closed
Sunday                            5:00pm – 10:00pm
In addition, the NUI Galway campus offers students a wide variety of dining options. With 15 cafés/restaurants, the choice is yours. Check out the full list here.
Apartment Sharing Tips
Living away from home can take some getting used to. What's more, sharing an apartment with people you don't (or sometimes do) know can present its own set of challenges.
Check out our sharing tips for suggested ways to make the transition a little easier! And remember, we're here to help you, so don't hesitate to get in touch if you have any concerns.
Electricity Saving Tips
The heater in your living room is a combined storage and convector heater. It provides best efficiency if the storage switch is left on continually as opposed to using the instant switch. The storage option is designed to take in half price electricity during the night and release heat throughout the day.
The heater in your bedroom is a convector heater providing instant heat. It is advisable to leave the heater on a timer for a number of slots throughout the day. If you only turn on infrequently most of the energy consumed will be absorbed by the cold surroundings such as walls, furniture etc. before the unit can start heating the room.
Hot water for the apartment is best used on the timer setting. Agree with your housemates a reasonable schedule and set it to come on an hour before the first person is likely to get up in the morning, perhaps leave it off for most of the day while you are all out at classes. If you switch the heater on to constant always remember to turn it back to timer afterwards.
Security
We provide 24-hour security to ensure your safety and peace of mind. If:
you get locked out of your apartment after reception closes
your key is not working after reception closes
you hear a noise disturbance in your apartment or block
you think somebody needs medical attention
you spot a problem with windows/doors after reception closes
you notice uninvited guests in your apartment or block
there are electrical issues or emergency plumbing is needed
you have any other security worries
…simply call security on ext. 2207 or 087 2753165. Security is there to help you!
NUI Galway Code of Conduct
When registering as a student at NUI Galway, by accepting the terms and conditions, you agree to abide by the Student Code of Conduct. This Code of Conduct applies at Corrib Village so please familiarise yourself with it.
Buses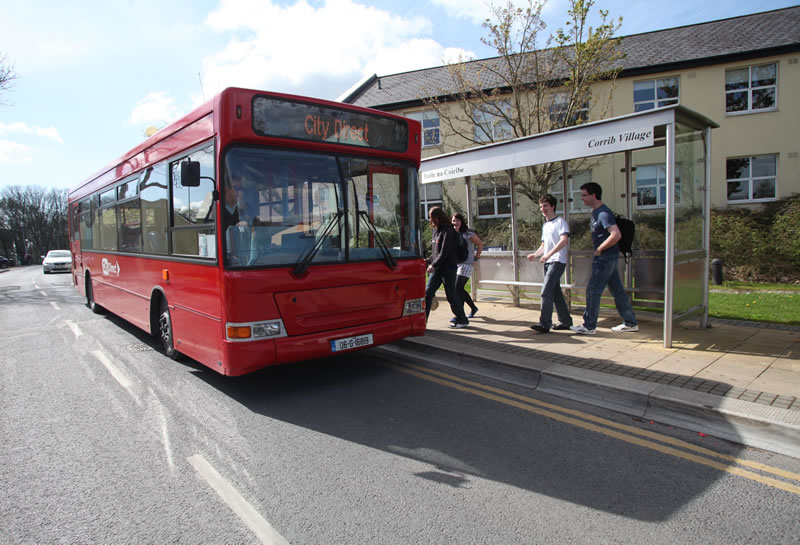 NUI Galway operates a free campus bus service which runs regularly throughout the day from September to May. For more information, click here.
There is also a regular, public, bus service (404) to Galway city centre. The nearest bus stop is located just outside the Corrib Village Entrance to the University (on the same side of the road as the entrance, on Upper Newcastle Road). Timetables are available at reception or can be viewed online here.
Useful Links